Did Charlie Sheen seek revenge on the makers of Two and a Half Man?
The first question that struck everyone who watched Two and a Half man finale is "Where is Charlie Sheen?" Even if you're not one of those 13 million souls who eagerly tuned in to watch Two and a Half man for every new episode, Charlie not being present in the finale might have intrigued you.
ChuckLorre and CharlieSheen, were once considered a successful combination; their relationship soon grew into a bitter one. Not-so-meaningful comments made by CharlieSheen in various interviews about the show and the Creator ChuckLorre didn't go well with the show's makers. That has been a major take away from the shows' finale for fans who were eagerly waiting for CharlieSheen to make a comeback, at least in the final episode. Who is to be blamed for letting the fans disappointed, the makers, or the actor himself? May be, Sheen had already put the makers through a lot. But, the writers didn't let it go that simple. Insult after insult was heaved at Sheen for all that he had done, or after all that he had put the writers through.
However, there is another side of the story too. Sheen was offered a comeback in the season's finale, but he had turned down the offer. It also seems that the duo could not get on the same page. However, a message ran on the TV screens after the finale explaining Sheen's absence.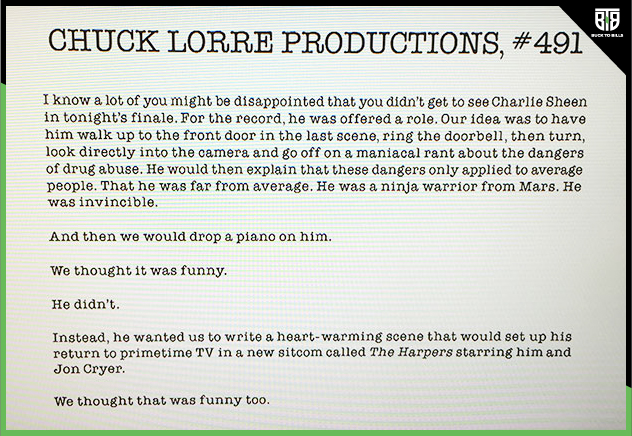 However, Lorre wasn't surprised by Sheen turning down the offer; rather he was surprised by what Sheen wished for his character. Lorre found it to be hilarious. After firing Sheen from the show in the ninth season, the writers killed the character in a train accident. Sheen wished for a heart-warming scene to set his comeback. The two conflicting ideas for the shows' finale didn't line up at all. It was, according to fans, a bizarre way to pay homage to the lead character.
Alan and Walden, anticipate that Charlie might still be alive somewhere that's when the plot is revealed. Rose, Charlie's stalker-turned-wife reveals that Charlie is indeed alive; she didn't kill him and reveals that she kept him alive in a pit for years. In the very next scene, Charlie look-alike, appears only from the back, is shown trying to escape only to die, one last time, falling under a dropped piano.
Charlie was replaced by Kutcher in 2011. Since then, the overall tone of the show has changed. Writers struggled to incorporate Kutcher's much younger appeal in line with the show's earlier energy. This raised many questions, and a lot of things had to be discontinued like there were no more Sheen-piano moments after the former actor was fired. A lot of jokes revolved around Alans' sexuality.
Lorre explained why Sheen might have rejected the comeback offer in an interview with NYT, saying that he could only assume that Sheen didn't see humor in the right way.
Interview Link: The New York Times