A 6-year-old boy, Bridger Walker, of Cheyenne, Wyoming on July 9, did the bravest thing that any kid of his age wouldn't even probably imagine to do. for his age. He saved his sister's life, who is 4-year-old, from being bitten by a 1-year-old German shepherd by standing in between her and the charging dog.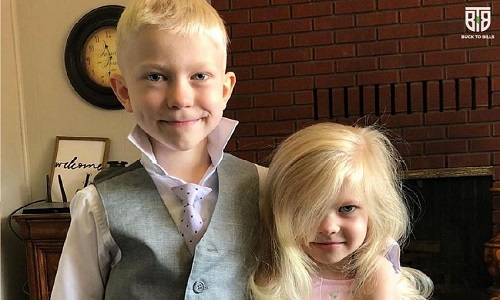 Robert Walker, the father of Bridger, said that the little boy's face was bitten by the dog both on face and head, which was so badly shaped out that it required 90 stitches.
Inspired by the story, the little boy's aunt, Nicole Walker, narrated the whole incident on her Instagram handle, trying to expose the boy and his valour to the world by tagging the actors playing Marvel superheroes.
Chris Evans, who was established as one of the highest-paid actors in the world for his roles in the Marvel series, is going to gift one of his shields to the boy for his exceptional bravery at such young age.
Adding Chris said, "Pal, you are a hero," in a video response on twitter. "What you did was so brave, so selfless, your sister is lucky to have you as a big brother" He added.
Bridger, 6 years old, saved his little sister from an attacking dog. He knew he would get hurt, but he did it anyway. He's a hero.

So, we made this happen. One of the most fulfilling things, ever, huge thanks to Chris Evans.

Spread love. ❤️ pic.twitter.com/PKxeHcyPyk

— BD (@BrandonDavisBD) July 16, 2020
Mark Ruffalo, another Marvel superhero who played Hulk, wrote that "people who put the well being of others in front of themselves are the most heroic and thoughtful people he knew" and he added that he respects and admires the courage of the little boy and his heart. Real courage isn't dominating people or fighting against people or walking around like a tough guy. Real courage is knowing what is right to do and doing it, even when it might end up hurting you somehow, he further added.
Anne Hathaway, who is popularly known as Catwoman from "The Dark Knight Rises", wrote in her Instagram post, "I am not an Avenger, but I know a superhero when'll see one. I can only hope I'm half as brave in my life as you are in yours, Bridger. Wishing you and easeful recovery and many cool looking rocks. Hey @markruffalo, do you need a teammate??"
Tom Holland (Spider-Man) Hugh Jackman (Wolverine), and Zachary Levi (Shazaam) also sent their good wishes and said their prayers are with him to Bridger, according to CNN.
The rescue dog that was involved was taken down for euthanasia, at the will of the dog owners themselves and against the wishes of the Bridger, who didn't want to see the 1-year-old German shepherd get hurt.
View this post on Instagram