Beirut, recently in news because of an explosion that took place on Tuesday, is the capital city of Lebanon, in West Asia. Footage that captured the explosion has gone viral on social media showed a large cloud of smoke undulating near the port area. The billowing smoke has thrown everyone into a whammy just before the explosion took place. Soon after the incident took place, multiple pictures and videos emerged from the accident site sending signals of fear all along.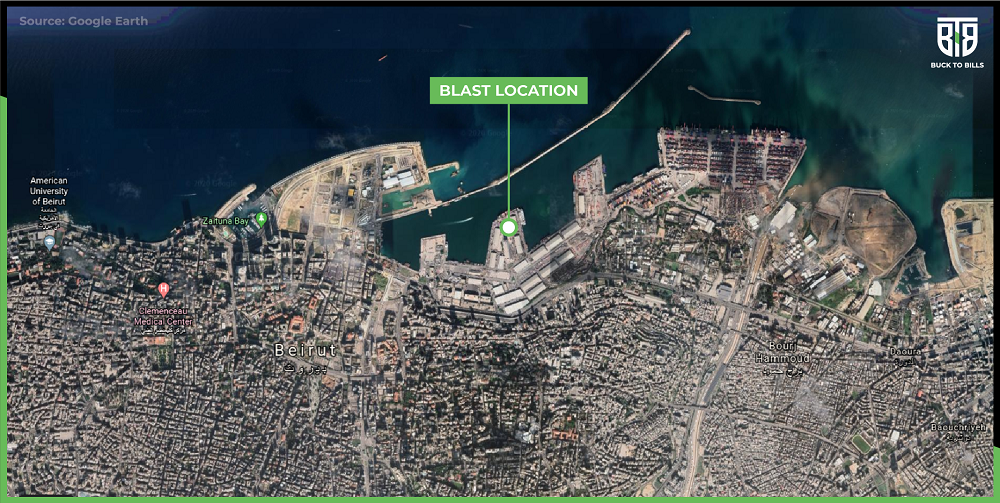 Two explosions took place within just minute's difference on Tuesday afternoon in the central port area of the city.
Following the incident, a two-week state emergency was imposed in the capital city after the blast took place, according to the reports from the Reuters.
At a time when the country is crippled with a myriad of economic hurdles, this incident has come as a shock to everyone, causing the closure of businesses and prices of basic commodities soaring to sky-high.
The tremors were felt as far as 10kilometres away from the site and damaged the President's residence in Lebanon, the Baabda palace
The neighbouring island, Cyprus also felt the explosion which is 250km away, reported European-Mediterranean Seismological Centre (EMSC). "Scale of losses was too great to be described and the biggest loss is the loss of the dead and the injured" quoted by the President, reported by CNN.
From the observations made by the experts, it has been inferred that lack of maintaining safety norms has contributed to this drastic event. There are speculations about how both Ammonium nitrate and another source of fire were so close to each other.
There were 2,750 tonnes of Ammonium Nitrate stored in the port as quoted by President Michel Aoun without any safety measures.
Several countries came forward to offer humanitarian assistance to Lebanon, through international defence and diplomatic channels.
The health care system which is already struggled with coronavirus pandemic is going to be further stressed with the patients coming in from the blast scenes.
With many unaccounted for deaths and injuries, people in the surrounding areas of the blast and the city were enraged by the alleged negligence of the officials and the government. Several protestors took to streets, clashed with security forces and indulging in anti-government demonstrations.
Almost 300,000 people have been left homeless as quoted by the Beirut's Governor, Marwan Aboud.
With the latest incident now the people have to cope with power cuts, lack of safe drinking water and limited public healthcare.
Massive Bomb Blast in Beirut.
pic.twitter.com/7ucMVk61vl

— Tarek Fatah (@TarekFatah) August 4, 2020